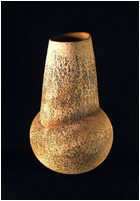 Brian
O'Neill: Ceramic Vessels
Opening Friday June 27, from 7-9 pm. Reception above the
gallery at Avenue One.

Brian O'Neill is a ceramicist living and working in Bellingham. Originally from Los Angeles, Brian has shown his work mostly up and down the coast, including the 8th Annual Mingei Pottery Invitational at Glenn Richards Gallery, a juried exhibition at Ellen Ziegler Design. His work has been featured at Fireworks Gallery, Kindred Gallery, and Pottery Northwest Gallery, just to mention some of his Seattle showings.

Artist Statement:
"I find great satisfaction working with basic raw materials that can be coaxed, nurtured if you will, into objects that have shape and balance - a rhythm in their proportion and surface texture.
It is my hope that some of these universal rhythms of nature are embodied in my pieces, evoking the simple strengths that reside in stone and the natural landscape. Most of my forms are vessels. While not always "functional" in the traditional sense, each piece has an interior and an exterior - much like all of us. The visible form and the more hidden space inside is an anthropomorphic relationship I enjoy exploring. Each piece comes into existence and develops a personality as it evolves."